Dr. Weiss, an Invisalign® dentist in Brooklyn, often recommends an Invisalign® procedure rather than traditional braces. Invisalign® is the breakthrough technology that lets you have the smile you've always wanted without the hassle of braces. By using a series of clear, removable aligners, Invisalign® straightens your teeth with results you'll notice sooner than you think. The course of treatment involves changing aligners approximately every two weeks, moving your teeth into straighter position step-by-step, until you have a more beautiful smile. Unlike conventional braces, these clear aligners can be removed while you eat and brush your teeth as usual. An average Invisalign® course of treatment takes about a year.
The Invisalign® Advantage Over Braces

When choosing an option for straightening your teeth, it's important to consider what works best for not only your appearance, but your lifestyle as well.

| | INVISALIGN® | BRACES |
| --- | --- | --- |
| Effectively treats a wide variety of cases, including crowding, spacing, crossbite, overbite and underbite. | X | X |
| Straightens your teeth | X | X |
| Average cost is about $5,000* | X | X |
| Allows you to eat whatever foods you enjoy | X | |
| Lets you remove the device when you want | X | |
| Lets you enjoy virtually invisible teeth-straightening | X | |
| Allows you to brush and floss your teeth normally for better periodontal health | X | |
| Consists of smooth, comfortable plastic instead of sharp metal that is more likely to irritate your cheeks and gums | X | |
| Frees up your busy schedule, with office visits only every four to six weeks | X | |
| Invisalign® Teen: Provides up to six free replacement aligners if lost or broken.** | X | |
* November 2010 Invisalign® Patient Survey
** Invisalign® Teen Only
A gadget that the orthodontist gives you to wear after your braces are removed. The retainer attaches to your upper and/or lower teeth and holds them in the correct position. You wear the retainer 24 hours a day at first then at night to make sure that none of your teeth move while your jaw hardens and your teeth get strongly attached to your jaw.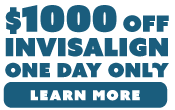 Anterior cross bites occur when the upper front teeth are inside of the lower front teeth. Over time, the lower jaw grows into a forward position abnormally, thus inhibiting the growth of the maxilla (roof of the mouth or upper jaw). Once the source of the interference causing the cross bite is eliminated, the appliance guides the maxilla back into position. The front of the appliance is moved outward through the tension of an expansion screw at the base of the unit while the back teeth are used for anchorage.
When closing a diastema (gap between teeth), differing amounts of movement of the two teeth is often needed. In this appliance, coil springs are placed to the side of each tooth. An arch wire acts as a guide and keeps the teeth from tipping as the space is closed.
This is a typical case of crowding. A palatal expander was used to create sufficient space in the mouth for the permanent teeth to fit properly. Braces were worn for approximately 15 months and retainers for another 3 years.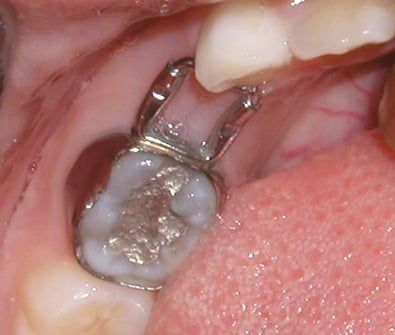 A space maintainer is a removable or fixed appliance designed to maintain an existing space. They are usually fitted to children when they have lost baby teeth early. The gap left from losing this tooth needs to be held open for the permanent tooth to erupt in its correct position.
After completing orthodontic therapy, it is not uncommon to still need a little fine tuning of tooth alignment. This is particularly true in patients who have undergone extensive orthodontic therapy and are simply 'burned out.'

This retainer is useful in correcting minor rotations and crowding. When worn, the spring action of the wires provide a light force to align the teeth. The appliance is constructed to the 'ideal' setting and the patient's teeth adapt to their new position.