Halloween doesn't have to be a bummer this year just because we are in a pandemic. First off, remember, everyone's holiday season is being affected. Just keep an open mind and let's get creative!
If you're in an area allowing trick or treating, think of some clever ways to hand out candy safely while maintaining social distancing. For example, have a COVID Candy Toss. Put out a sign that is clearly visible with simple direction. Something like "Knock. Then stand behind the caution tape. Be ready to catch!" Mark out some sort of line that is 6 feet from your front door. Once you answer the door, you can have a candy toss where the kids can catch candy from behind the line. This keeps everyone safe, socially distant, and the candy is flowing!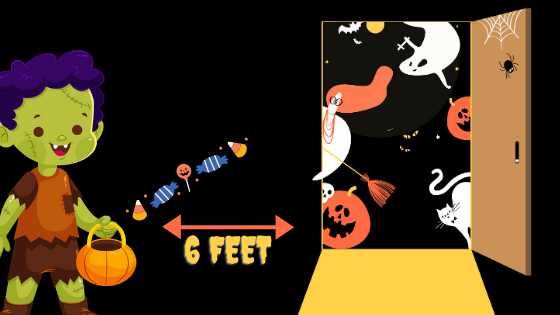 Another idea is to set up a candy slide. Create a tube set up, think paper towel tubes. You get to drop candy down the tube for trick or treat buckets waiting below to catch the goodies!
If you are in a location that has prohibited trick or treating this year, don't fret! There are plenty of things that you can do during a night in at home:
1. Have a pumpkin carving contest with your family! Even if it has to be a Zoom Halloween contest! Lay out the rules, set a time limit and then everyone can share what they have come up with.
2. Google some ghoulishly delicious recipes! Make it fun! Appetizers, entrees, and desserts. There are loads of Halloween themed selections with a quick Pinterest search, even down to the eyeball fruit punch.
4. Set up some fun Halloween games! Bob for apples! Make witch slime! Craft up some fun décor!
5. Have a costume contest! Have more than one costume? Turn it into a Halloween Fashion Show!
If you want a more zombie and chill type night, put on your favorite Halloween movie. Then make a game of it. For example, one of our favorite movies is Hocus Pocus. So, start with a cauldron of candy – all different kinds. Every time Winifred Sanderson says "BoOoOoOk!" blindly grab a piece of candy out of the pot. This will be your at home version of trick or treating. At the end of the movie, see who made out with the best kinds of candies and who got the worms!
If you don't feel like staying in, but you also aren't fully comfortable trick or treating (or letting your kids go door-to-door), there are virtual Halloween activities as well as Halloween drive-thru options, and even your classic haunted house. Do a quick online search of the area to see what's going on in your neck of the woods for some Spooktacular fun!
No matter what you end up doing, have a thrilling time! This is already a year to remember, so add some oomf to your Halloween and make it a POSITIVE memory! Be safe and enjoy that candy in moderation.