The Holidays are now in full swing. It's getting colder, the sun is setting a little earlier, but the decorations are out and shining bright. The holidays are a time where people get together and celebrate friends, family, good health, happiness, and festive foods! With all the holiday sweets and desserts that we usually eat around this time, we don't stop to think about the effects all that sugar can have on our teeth. Just like you, we know it's not easy staying healthy over the holidays. For this Christmas, we're striving to be more mindful of our oral health, do what we can to prevent any sugar overload, and invite you to take that on as well. Since we're thinking about our oral health and what we can give out for gifts (because there's still time!), let's discuss some healthy and useful stocking stuffer options, that are also pretty affordable for all budgets.
Toothbrush covers: When we're done brushing our teeth, our toothbrushes sit uncovered, and they start to collect all kinds of bacteria before we start using it again. It's super gross to think about it, but a simple toothbrush cover can help protect the bristles. It's also convenient to have, especially when traveling. The cover is a great idea to give as a gift because it can keep our brushes hygienic and dust-free. PRO TIP: Just like your toothbrush, remember to replace them frequently.
Sugar-free gum: Candy is a common stocking stuffer and whether it's sugar-free or not, who doesn't love gum?! Sugar-free gum is the healthiest option for teeth, especially kids. Gum also helps us produce more saliva. More saliva prevents dry mouth and helps clean bacteria and clear food particles that tend to linger after meals.
Travel toothpaste and mouthwash: Small, travel size toothpaste and mouthwash are convenient to have around. Be it preparing for a trip, sleep over, or unexpected guests.
Fun Flossers/Floss Picks: If we want to start them off early, fun flossers are a way to encourage kids to start flossing daily. Fun flossers brands like DenTek and Plackers come in unique shapes and colors to make flossing more fun for kids. Some flossers out there even come in different flavors with fluoride coating, which we all need for our teeth! Floss picks are another option that we can give out to people who procrastinate with a flossing routine. Stick a container of floss picks in their stockings, the picks are much easier to use than the regular traditional string floss.
Electric toothbrush: Electric toothbrushes clean teeth and gums much better than the traditional manual ones we're used to. Chief Executive of the Oral Health Foundation, Dr. Nigel Carter OBE says people who use an electric toothbrush have healthier gums, less tooth decay, and also keep their teeth for longer. There are also ones for kids that come in different colors and cartoon characters, that'll get them excited to start brushing their teeth. PRO TIP: unsure if electric is for you? Try the battery powered ones.
That should take care of our stocking stuffer gifts, but what about when we're with our family and friends? We should be able to enjoy the holiday season without worrying about cavities or plaque. If you need a list to keep you on track to maintaining a clean and healthy mouth, we got that covered! Check out our list of what we can do this holiday season to keep our teeth healthy.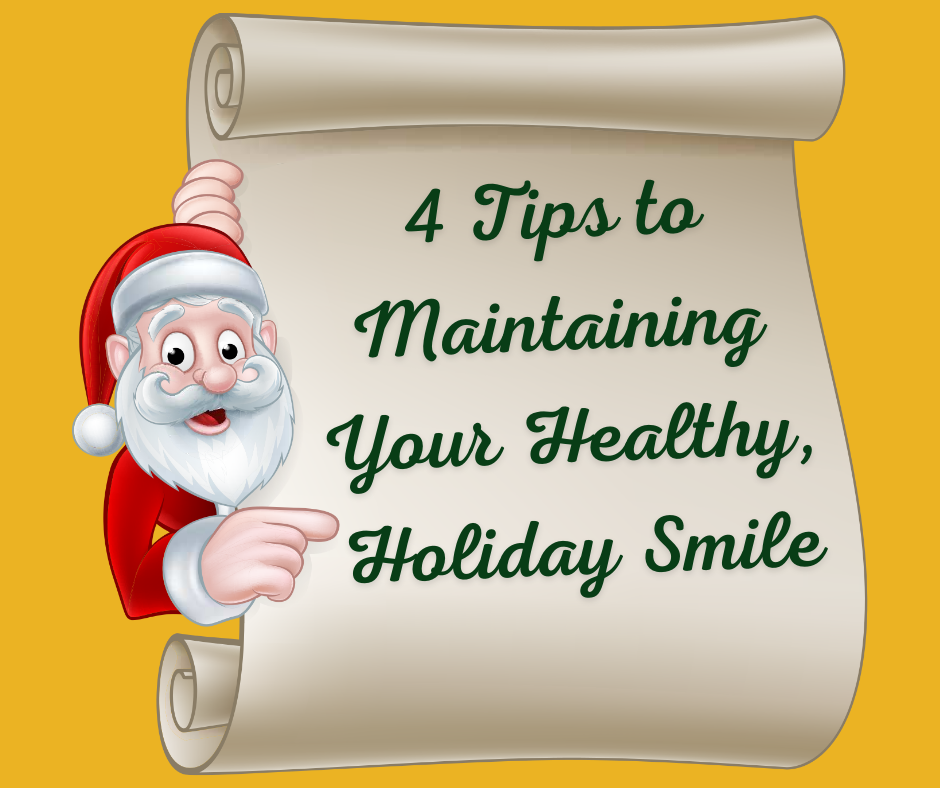 Avoid overdoing it: Candy canes, cookies, cakes, and popcorn, all the wonderful classics we'll eat during Christmas time. All the sticky, hard, gummy, and chewy foods are tasty, but can be difficult to get out and off our teeth. If we're constantly snacking on something, we run a higher risk of tooth decay. Let's try slowing down on the sugar and brushing after every meal. PRO TIP: Chewing sugar-free gum after a meal, can also help for those times you don't have a toothbrush handy.
Eat more of the healthy foods: If we're worried about eating too much sugar, we can eat more fruits and vegetables just to balance out what we're eating. Winter favorites like apples, carrots, and celery help clean plaque from teeth and freshen breaths.
Stick to our daily routine: Brushing and flossing may sound tedious, but if we want to keep our teeth in great shape, we must stick to our daily routine. By brushing twice daily, flossing, and using mouthwash, we can keep up our good oral habits. PRO TIP: just brush and floss the teeth you'd like to keep!
Drink plenty of water: We all know that drinking water has many benefits, and those benefits can work for us especially around the holidays. When we're going out to see friends and family, it's very important to stay hydrated. Aside from hydration, water can freshen breaths and it's a quick way to get rid of debris in our teeth.
The holidays are always a great time, we spend 11 months looking forward to this time of year. While we are having fun and enjoying ourselves, we can also be mindful about caring for our teeth. Keeping up with our daily routines and going the extra mile can assist in preventing dental problems down the line. Share these helpful tips with family and friends so they can be aware of what to do around this time as and support you as well. Happy Holidays and keep those teeth shining bright!